(Last Updated On: January 31, 2018)
Whenever someone says 'Plastic Surgery'– what comes across the mind of most patients and an average person is- Bollywood/ Hollywood (Cosmetic/Aesthetic Surgery). Surprisingly and unfortunately, even many medical students and health care professionals aren't rightly aware of what the field of Plastic Surgery actually comprises of.
Yes, Plastic Surgery is a relatively new branch and rapidly evolving, but then, it has been there for almost a century now, and deals with multiple specific areas of expertise, of which, Aesthetic surgery is one.
Even Dr. Google doesn't come in handy when anyone wants to find out what exactly Plastic Surgery is and instead bombards him/her with links to all sorts of graphic images related to spicy news of cosmetic surgeries (overtly successful or failed) undergone by actresses and sometimes por**graphic websites. This is how the first search page of Google Videos appears like, when we search for the term 'Plastic Surgery' :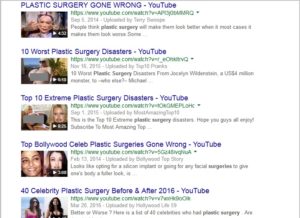 Hence, we have decided to share with you any good and inspiring video we stumble upon that may help raise AWARENESS about our speciality- Plastic, Reconstructive Surgery and Burns.
Inspirational Video
Here's the first plastic surgery inspirational video that we wanna share: uploaded by Department of Plastic Surgery, University of Pittsburgh on 20 Aug 2012 in Youtube.
I hope this video served as your today's dose of inspiration, but as you know, the general population (including Doctors of other specialties) around you are still largely unaware of the progress made in the field of Plastic and Reconstructive Microsurgery. So, help us spread the word by sharing with everyone as far as possible.
Thank you.